Spectacular Country Estate near Basel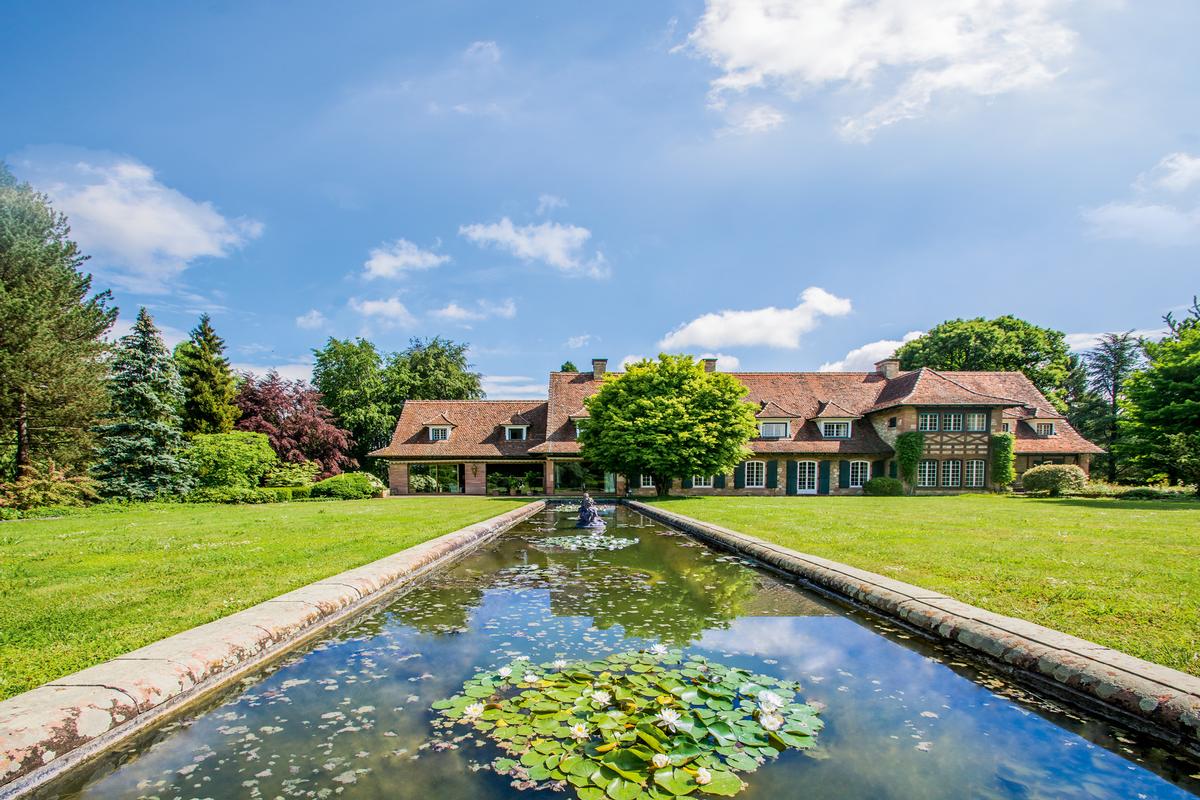 A lavish Country Estate in the Heart of Europe only Ten Minutes from Basel City
A Country Estate for Various Purposes
"Le Siège Manoir" was built in 1961-62 and subsequently expanded, modernized and always well maintained. The villa's sophisticated design is inspired by classic English country houses while incorporating typical features of local architecture, such as the green window shutters and the hand-picked stones of the facades. Modern architectural elements are applied conveniently, too. In the living area to the west, large glass panels merge interior and exterior to great effect. These windows can be retracted into the ground automatically. During the summer months, the villa's residents live in an open loggia amid a magnificent landscape garden. »Le Siège Manoir« is suitable as a sophisticated private or family residence but can also be operated as a conference center, horse farm, boutique hotel, or private clinic. There is ample potential for new construction on the estate. At the east side of the villa, a new unit can be added. On the western and southern edges of the park, new building lots are permitted.
After passing through the scenic access road, the charming country villa appears on a sunny elevation in the center of a clearing. The grand driveway provides ample space for visitors and accesses the covered parking spaces. Through the main entrance, residents and guests get in the spacious foyer which is connected to a barrier-free elevator. Straight ahead follows the lavish living room with a fireplace. A glass door in the center provides direct access to the garden. The living room is one highlight in an entire sequence of connected spaces. To the east, a tasteful library is attached including a panoramic bay that projects into the park. Another fireplace radiates solemnity.
To the west joins the magnificent dining room which provides enough space for a rich family dinner at a large table. Further west, people finally access the beautiful twofold living area which is entirely oriented to the garden. Just like in a loggia, residents and visitors enjoy a fascinating view of the axial water basin that connects the villa formally with the park. The impressive wood beam ceiling, the raw quarry stone wall, the large-sized parquet floor, and the festive fireplace evokes a rustic but extravagant ambiance.

Property Features Include: Historic Home, Alarm

Amenities Include: bike trails, walking trails, Indoor Pool, Outdoor Pool, Sauna, wine celler

Architectural Style: English Country Style
Web id: EJRU
MLS#: Le Siège Manoir
Bedrooms: 13
Bathrooms: 4